| | |
| --- | --- |
| Posted on December 3, 2016 at 5:50 AM | |
A little thought on Candle Magick.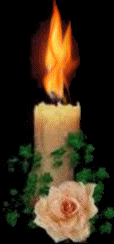 All religions have their Bells & Smells, so there is nothing very new to this candle burning business, it 's just the fact that you are the sole / soul (both meanings) energy, you have no interference from anyone else, so this can be a very empowering thing to do!
The strong intention is everything, really focus! on your end result.
Place your candle on your altar after you have cleansed and Blessed your candle with maybe oils & herbs & a repeating your carefully worded chant. Also cleanse & bless your altar which means removing any negative energies. There are several ways to do this, I usually cleanse all my altar tools with sage smoke. It is a good purifier and banishes negativity. You can also consecrate your candle with a concentrated oil that corresponds with your magickal working. It is also important to remember that blowing a candle out is disrespectful, so a snuffer is a must. Some people do not believe that scented candles are appropriate but I think if the scent is helpful to your spell that they can be okay.
Colour of your candles are important also, Green for Prosperity, Red for passion, Pink for Love & Blue for healing & Black for Protection.

You will work out what feels right to you and that is what is important.
Blessed Be..
Categories: None