The Moon Dates & Pagan Calendar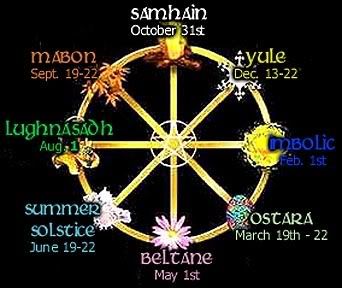 Pagan Celebrations.

Samhain – Halloween – All Hallows Eve - 31st Oct/1st Nov.
Yule - Winter Solstice – 20th/23rd Dec.
Imbolc – Candlemass - 2nd Feb.
Ostara – Spring Equinox – 19th/22nd Mar.
Beltane – May Eve - 30th Apr/1st May
Litha – Summer Solstice – Midsummers Eve - 19th/22nd June
Lammas – Lughnassadh - 31st Jul/2nd Aug.
Mabon – Autumn Equinox - 21st/24th Sept.
Date
Time
Event
Fri. 4/26
All day
Last quarter
Wed. 5/1
All day
MAY DAY / BELTANE

Beltane, the Celtic festival marking the beginning of summer, where the cattle was driven between purifying fires before they were let out to graze the meadows. Also the festival of Belenus, the Celtic god of fire and the sun. [IMAGE] MAY DAY T...

more
Sat. 5/4
All day
New moon
Sun. 5/5
All day
Cinco De Mayo
Sun. 5/12
All day
First quarter
Wed. 5/15
All day
Festival of Mercury

The Mercuralia,

The festival of Mercury,

the Roman god of merchants & travellers.

Sat. 5/18
All day
Full moon
Mon. 5/20
3:00 PM
SACRED TO THE GODDESS ATHENA.

20th MAY SACRED TO THE GODDESS ATHENA.

SHE IS THE GODDESS OF BATTLE

& WISDOM..

Sun. 5/26
All day
Last quarter
Mon. 6/3
All day
New moon
Mon. 6/10
All day
First quarter
Fri. 6/14
All day
Flag Day
Mon. 6/17
All day
Full moon
Thu. 6/20


-

Sun. 6/23
12:00 PM


-

1:00 PM
Litha / Midsummer, Summer Solstice, June 20-23,

Litha / Midsummer, Summer Solstice, June 20-23, Held on the longest day of the year, the Solstice is the celebration of light's triumph over darkness and that of the bountiful beauty that light brings into life. Midsummer is a very magical time. [...

more
Sat. 6/22
3:00 PM
England's last Witchcraft Law is repealed in 1951

[IMAGE] It was not until the 16th century that religious tensions resulted in serious penalties for witchcraft in England. Henry VIII's Act of 1542 was the first to define witchcraft as a crime, punishable by death & the forfeiture of the ...

more
Tue. 6/25
All day
Last quarter
Tue. 7/2
All day
New moon
Thu. 7/4
All day
Independence Day
Tue. 7/9
All day
First quarter
Sat. 7/13
12:00 PM
John Dee Birthday.

Happy Birthday John Dee.

John Dee (July 13, 1527 – 1608 or 1609) was a noted British mathematician, astronomer, astrologer, geographer, occultist, and consultant to Queen Elizabeth I.

Famous alchemist.
Show Past Events